oasis-web.net
The best of both worlds!
Melco Group International's
OASIS
the '
Ocean Air Shipping Information System'
- Powerful, tested, continually improved since 1988 client based Network system and...
oasis-web
the
OASIS
'
Ocean Air Shipping Information System
' web based, Internet driven, SQL application.
oasis-web
is designed to operate in the "Cloud" and integrated to the
OASIS 'Ocean Air Shipping Information System".
Every OASIS site now has capability of complete overview of customers data & activity...

Rolodex

Global Geo-Coding

of addresses - Visualize Shipment activity by Continent, Country, Area, City...

All Shipment

Transaction Activity

(Bookings, Quotes, Ocean, Air, Inbound)...

Warehouse MR

(Material Receipts... *1

Verified Gross Mass Certificates (

VGM

)... *2

Cargo Tracking

- Customers which you have activated receive automated FedEx type tracking emails. May also have access to 'Their' shipments... *3

Reports

- various depending if access by OASIS site or by OASIS site customer...
*1 requires module in OASIS
*2 Experimental Requires Customer Feedback
*3 Requires Tracking module
Once the cloud service is activated in OASIS, the system will activate it's webservices function in the background & transfer current and transaction data as it is updated and saved in OASIS and made available on the 'cloud'.
oasis-web - the affordable OASIS web 'cloud' component! companion
OASIS Transactions on the Cloud...
oasis-web is Login & Password secured. You control which clients may access oasis-web. Each OASIS client is tied in oasis-web to their unique OASIS Id (Customer Number) in your OASIS system. Therefore EXXON cannot view TEXACO orders. Setup of "your" oasis-web clients is painless & basically, automatic.
24/7 Real-Time Tracking
oasis-web working in the background via webservices will automatically update oasis-web when shipment data is either entered or updated in OASIS via the [ TRACKING ] function immediatly generating a shipment status report emailed to the individual OASIS business partner, shipper, consignee...In order for this feature to be active:
User must be activated in oasis-web
do not have to login into

oasis-web

as emails status is autogenerated
Rolodex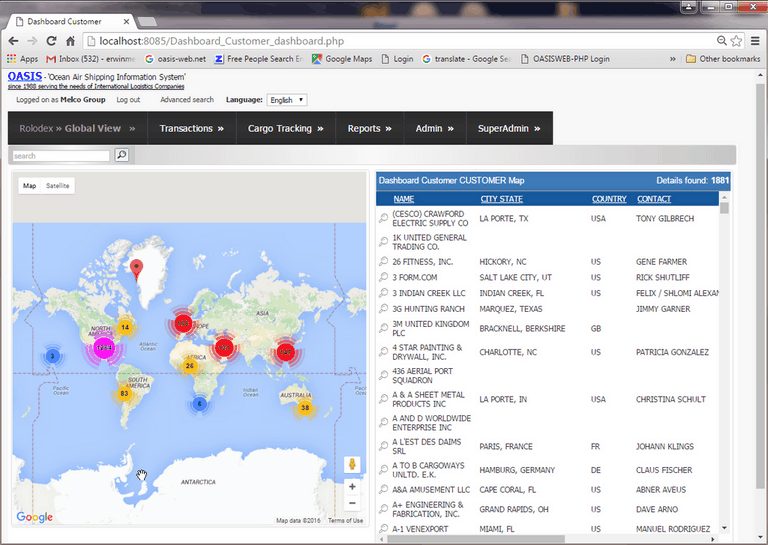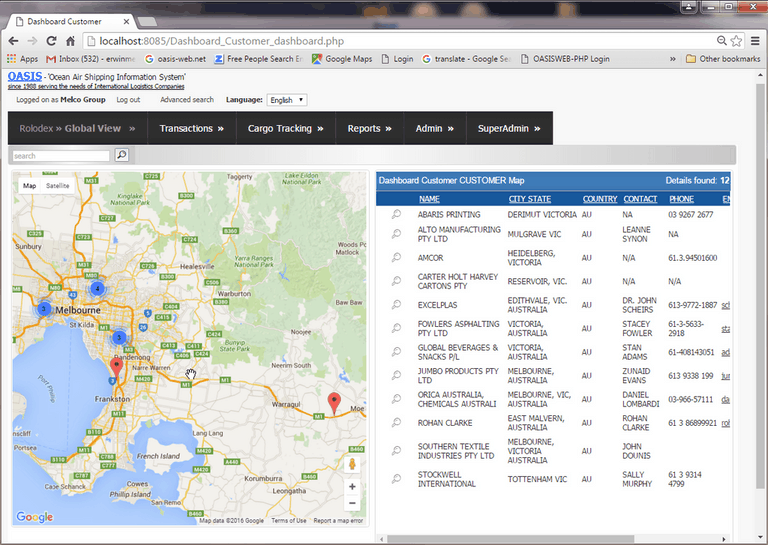 OASIS Rolodex (Customers, Shippers, Consignees, Carriers, business partners ) - in short the contact database from OASIS is accessible via this menu option. Multiple Ascending, Descending and optional search options allow for fast location of specific record(s).
Global View displays a World Map indicating concentration of clients by Continent / Country / Region / City utilizing Address Geocoding.
Selecting a specific Country / City displays shipment activity in that location...
Transactions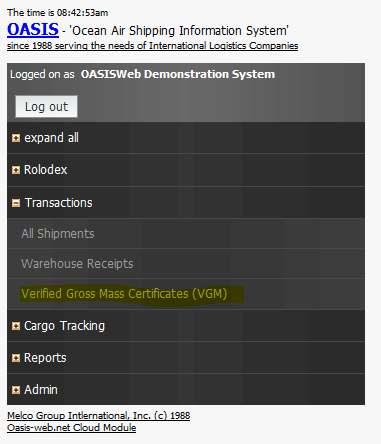 Booking information, Quotations, Air, Ocean, Warehousing activity and Inbound De-Consolidation transactions are accessible via this menu option.
Search Options
Searching options include:
boolean operators i.e.: > greater than, < less than, starts with, does not contain...
shipment data by Origing to destination...
a specific numerical or alpha character...
and other functions...
Cargo Documents
OASIS already produces over 40+ laser International documents. So no need to duplicate them in oasis-web. However, depending on your licensed options...
Shipment Details - (OASIS Site & Customers)
Tracking Module (for OASIS Customers)
Verified Gross Mass Certificate SOLAS VGM (only OASIS Site - not Customers)
Warehouse Receipt (OASIS Customers)
Reporting
Available to the OASIS Site

DASHBOARD: In today's global economy, markets drive and influence each other. Management's ability to examine and explore various performance metrics is facilitated via oasis-web's Reports - DASHBOARD 24/7 real-time generation of OASIS generated Logistics shipment data facilitating Management's ability to Drill down and compare various significant market segments (Top Clients, Air, Ocean, Warehouse, POL, POD, Billling Activity data) presented in multiple user selectable time frames.