Searching / Sorting
Throughout oasis-web cloud you will be able to search and find shipment information.
Sorting
Note that on any displayed Column Field name Ascending and Descending sort is available.

Search
A bar similar to the one displayed will be available. You can type any type of information in the search field and click on the Lens Icon such as:

·Container Number
·Partial P.O. Number
·Full or Partial AWB, Warehouse Receipt, B/L Number
and over 450 different system fields containing information and oasis-web will display the relevant and associated data requested.
AnyField
Selecting Any Field drop down can narrow down the search criteria.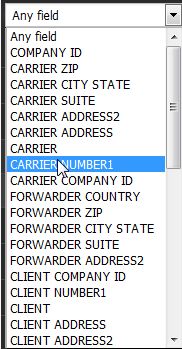 Contains
Use Boolean operators to amplify, restrict searches...

Floating Search
Selecting the Pin will allow for the search panel to be detached and 'float'